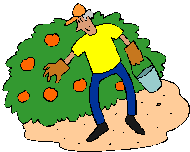 Looking for a local, pick-your-own farm in Southwestern Louisiana? Scroll down this page and you will see the U-Pick farms in Southwestern Louisiana, sorted by county. Those that offer organic or sustainably grown produce are identified by the words "organic" and/or "sustainable" in Green, next to their name (see "What does Organic mean?"). The U-pick crops they offer follow the name of the farm. To search the page for a specific crop, use Ctrl-F (or on an ipad or Mac, use their "search on this page" function) If they have a website, the name will be in blue and underlined; click on it and it will open their website. Beware of copycat websites (such as the one that starts with "pickit" and the one that ends with ".farms"; they do not update their information, they just steal it from us once in a great while (they are plagiarists operating in Russia and China), so theirs are usually out-of-date -and often copied incorrectly! I put dates to indicate when we last received an update from each farm, and I make updates daily (each farm as their info changes). See the customer and farmer menus at the top menu bar to submit updates and corrections and help me keep each current!
And if you know of any I missed and want to add them or correct the information, please let me know!
For information about safely viewing the solar eclipse and where to get the approved glasses, see this page. Or here to learn about the scam counterfeit solar eclipse glasses.
What's in season in August 2017, and other timely information:
Notes for August 2017: Blueberries and peaches are going still in northern and cooler areas, but are mostly finished in the Deep South. Blackberries, figs, and raspberries are in season now. Tomatoes are going strong, although the crop is way diminished in rainy areas like the southeast. Strawberries are finished, except in the far north, and if the farm planted Day Neutral varieties. Early apples, like Gala, are about to start!
Children's Consignment Sales occur in both the Spring and Fall See our companion website to find a local community or church kid's consignment sale!
Next year, don't miss an Easter Egg Hunt for your children: See our companion website to find a local Easter Egg hunt!
We also have home canning, preserving, drying and freezing directions. You can access recipes and other resources from the drop down menus at the top of the page or the site search. If you have any questions or suggestions, feel free to write me! It is easy to make your own ice cream, even gelato, or low fat or low sugar ice cream - see this page. Also note, there are many copycat website listing U-pick farms now. They have all copied their information form here and usually do not ever update. Since 2002, I've been updating the information every day but Christmas; so if you see anything wrong, please write me!
Southwestern Louisiana U-Pick Farms and Orchards, by county
Click on the resources drop-down above, if you need a county map
Allen Parish
Avoyelles Parish
Beauregard Parish
Calcasieu Parish
Cameron Parish
Evangeline Parish
Point Blue Farm LLC

-

No pesticides are used

, blackberries, blueberries, cucumbers, figs, herbs/spices, other citrus, pecans , tomatoes, other vegetables, Honey from hives on the farm, Fresh eggs, picnic area (bring your own food), farm animals, school tours
125 Prairie Rhonde Road, Ville Platte, LA 70586. Phone: 337-363-2499. Email: RobinLewis.co@hotmail.com. Open: All non - rainy days; Our roadside stand is always open, please call before coming for a tour with your kids or just a picnic on the grounds. Click here for current open hours, days and dates. Picking updates: Click here for picking updates. Directions: GPS highway 104 & highway 29 We are on the corner. Click here for a map and directions. There is not much to offer except picnics and cow petting during the months of late January until around May Feel free to call us or check us out on Facebook for all current offers as well. We do not use pesticides on the crops. Payment: Cash, only. Honey, Orange Marmalade, Fig Preserves, Satsuma Jelly, green onions. (UPDATED: February 21, 2016) (ADDED: July 15, 2015)
Jefferson Davis Parish
Lafayette Parish
Rapides Parish
St. Landry Parish
Beaucoupe Fig Farm

- A visitor writes on August 08, 2017: "I just learned Beaucoupe Farms is no longer in business, the owner passed away last year"
129a Richard Road, Opelousas, LA 70570. (UPDATED: November 15, 2015) (ADDED: June 26, 2013)
Blueberry Hill - blueberries,
557 Don Guilbeau Road, Arnaudville, LA 70512. Phone: 337-662-5100. Fax: 337-896-3070. Email: daphney@daleytower.com. And for a map to our farm, click here. Crops are usually available in June, July. Open: Saturday and Sunday 7am to 12pm. Payment: Cash, Check. (ADDED: June 10, 2008)
McCart Farm, formerly FitzFarm -

Uses natural growing practices

, blueberries,
1208 Highway 357 Next Door to Lewisburg-Bellvue Water Tower, Opelousas, LA 70570. Email: mccartfarm@gmail.com. Open: See our facebook page for current days and hours of operation. Click here for current open hours, days and dates. Directions: Off of Sunset Exit,take 182 north out of Sunset, you will pass "The Little Red Church", you are getting close to turning left on 358. After turning left on 358, go to the stop sign, roughly 2 or 3 miles down the road, and take a right. You will see the Lewisburg Bellevue Water Tower. We are right next door to it. You will see signs along the way. See you soon. Click here for a map and directions. We use natural practices, but are not yet certified Organic. Payment: Cash, Check. Feel free to email the farm with any questions! (UPDATED: May 1, 2015, JBS) (UPDATED: April 04, 2015)(ADDED: May 08, 2008)
Vermilion Parish
Four Oaks Farm

- mayhaw fruit (mayhaws)
15439 Dalton Road, Kaplan, LA 70548. Phone: 337-319-6538. Email us at: goldiehebert@yahoo.com. And for a map to our farm, click here. Crops are usually available in April, May. Open: Monday to Friday, 8am to 7pm Payment: Cash, only.
Vernon Parish
Anderson Farms - Uses natural growing practices, figs, melons, pecans , pumpkins, tomatoes, other vegetables, and prepicked produce, snacks and refreshment stand, restrooms, picnic area, face painting, farm animals, birthday parties, school tours
400 Slagle Road, Leesville, LA 71446. Phone: 337-208-7107. Fax: 337-239-0066. Email: Michellemac1974@aol.com. Directions: We are located 1.5 miles east from the intersection of Hwy 171 and Hwy 468. Also may see mapquest. And for a map to our farm, click here. Crops are usually available in June, July, October, November. Open: Monday to Friday 3pm to 6pm, Saturday 10am to 6pm, Sunday 2pm to 6pm. Open for pumpkin picking and tractor-driven hayrides from the last weekend of September through the last weekend of October. Watermelons from July through August. Spring vegetables start in May and end in August. We use natural practices, but are not yet certified Organic. Payment: Cash, Check.
---
---
Local Honey Sources:
Evangeline Parish
Point Blue Farm LLC Roadside Stand -

Uses natural growing practices

, Honey (retail), Clover honey, Crystallized honey, Raw honeys, Strained honey, Other honey products, Honey from hives on the farm, concessions / refreshment stand, picnic area, farm animals, school tours
125 Prairie Rhonde Road, Ville Platte, LA 79587. Phone: 337-353-2499. Email: robin_l_lewis@icloud.com. Open: Roadside Stand is Open Everyday! All year round;;; Dusk till Dawn;;. Directions: For a map to our farm, click here. Payment: Cash, Debit cards, Visa/MasterCard. A BBQ Stand and large Oak trees are present and Open to picnics on the Weekends Only! If you bring your own food it is $5 a person, for BBQ customers it is free to find a spot. Picking options & Dates: Children under 8 are Free Figs July-August. 5$ a person 5$ a lbs. Wild berries June-August 5$ person 3$ lbs. Satsumas November - January 5$ a person or 4/1$ Other small available are priced by availability!. We use natural practices, but are not yet certified Organic. Payment: Cash, only. Point Blue Farm L.L.C is donator of land use to the respectable Sunshine Honey Company a.k.a Evergreen Honey Company. They have three generations of pollinators and expand through the deep south. We venture in ties with them due to their involvement with the Louisiana Honey Bee Association and their activity for National Awareness. Anyway we are honored retailers of their farm product since 2015.(UPDATED: October 14, 2016) (ADDED: July 15, 2015)
---
Meats, Milk and Eggs:
Allen Parish
Saia Wholesale / Farm - Chicken (free range), 100% mixture of corn, grain, soybeans and/or other natural supplemental feeds, Eggs (free range, vegetarian fed), Brown eggs,
3594 Highway 1153, Oakdale, LA 71463. Phone: 334-707-4492. Email: steve@saiawholesale.com. Open: year round Sunday to Friday from dawn until dusk Closed every Saturday. Directions: From Alexandria take Highway 165 South toward Oakdale. After you cross the Allen Parish line turn right on Highway 1153. Go 3.3 miles. We are on your left. From Oakdale take Highway 165 North, Turn left on Highway 1153 (North Blacktop). Go 2.7 miles watch for us on your right. Click here for a map and directions. Payment: Cash, only. We are a large scale Square Foot Garden using Louisiana Cypress Raised Beds. (ADDED: January 20, 2014)
Evangeline Parish
Point Blue Farm L.L.C -

Uses natural growing practices

, Chicken (NOT free range), Beef, Fresh water fish farm, USDA Natural, No hormones used, No antibiotics used, 100% Corn fed, 100% Grain fed, 100% Grass fed (includes finishing), 100% grass and/or grain fed, Lunches offered, snacks, refreshments and/or concessions, Eggs (organic, free range, vegetarian fed), Brown eggs, Farm market with fruits and vegetables, Farm/ranch tours for visitors, School tours, children welcome, No children under 18 please, Pets welcome, No pets please, Honey from hives on the farm, Fresh eggs, gift shop, concessions / refreshment stand, porta-potties, picnic area, picnic area (bring your own food), petting zoo, farm animals, school tours
125 Prarie Rhonde Road, Ville Platte, LA 70586. Phone: 337-363-2499. Alternate Phone: 337-288-9066. Email: RobinLewis.co@hotmail.com. Open: Our meat freezer is full with the Best Black Angus around; However we are working on the ability to offer these aged beef wonders for sale to you according to USDA laws; We will however be on top of our game with shipping abilities to you and your front door as soon as possible. Click here for current open hours, days and dates. Updates: Click here for updates. Directions: CajunLife.co. Click here for a map and directions. We use natural practices, but are not yet certified Organic. Payment: Cash, only. We are more than proud of our roadside stand. For many years Point Blue Farm has been noted for its Honor Jar table stand. We supply our customers one at a time on their way home, to work or to visit loved ones as a one stop farm shop. Just leave the money in the jar and have a nice day. (ADDED: July 15, 2015)
---
Farm Venues for Weddings, Events, Activities, Parties and Meetings:
Evangeline Parish
Point Blue Farm L.L.C -

Uses natural growing practices

, School and educational groups, Daycare and preschool groups, Other Private Parties, Kitchen facilities available, Restaurant onsite, You may bring your own food, Some Tables and chairs are provided, Bring Your Own Tables and chairs, Bring your own linens and table silverware, BYO alcohol, Corkage Fee Charged for alcohol, Wine, Champagne, & Beer Only, B&B nearby, Hotel nearby, Motel nearby, Dairy farm, Cattle ranch, Vegetables, or bush fruit, dairy cows, chickens, other animals, Beautiful rural setting, Hiking trails, Fishing onsite, Fishing nearby, hunting nearby, Paid onsite parking lot, Free offsite parking lot, Valet parking can be arranged, children welcome, No children under 18 please, Pets welcome, No pets please, Smoking permitted, Smoking allowed in designated areas, Honey from hives on the farm, Fresh eggs, gift shop, concessions / refreshment stand, porta-potties, picnic area, picnic area (bring your own food), petting zoo, farm animals, school tours
125 Prarie Rhonde Road, Ville Platte, LA 70586. Phone: 337-363-2499. Alternate Phone: 337-288-9066. Email: RobinLewis.co@hotmail.com. Open: Roadside Stand all day Everyday with something; All other activities are requested to be scheduled to make sure our slippers aren't on!. Click here for current open hours, days and dates. Venue updates: Click here for updates. Directions: CajunLife.co. Click here for a map and directions. We use natural practices, but are not yet certified Organic. Payment: Cash, only. Our site has clear standards for any activity requested on our premisses. Waivers MUST be signed, and notification(s) to all participants of Point Blue Farm L.L.C liabilities or lack of concerning any event ARE necessary. We ask for a deposit on all parties of 10 or more non refundable to any guest or party upon short notice cancellation. (ADDED: July 15, 2015)
---
Wholesale Foods
Evangeline Parish
Faubourg Pumpkin Patch

- pumpkins, porta-potties, picnic area (bring your own food), farm animals, school tours
2043 Faubourg Rd, Ville Platte, LA 70586. Phone: 337-360-1341. Alternate Phone: 337-363-3969. Email: ljfontenot@centurytel.net. Open: Monday to Friday 8am to 12:30 pm for school visits Weekends - drive up and ask October 1st to November 1st. Directions: Directions: highway 363 Located close to Ville Platte. Near the Grand Prairie area. Click here for a map and directions. Payment: Cash, only. Many great photo opportunities Mini-science lesson given. Sweet potatoes. (ADDED: August 04, 2015)
---
Resources For Farmers
Evangeline Parish
Point Blue Farm L.L.C -

Uses natural growing practices

, Local sales at our farm, Local delivery, sale, trade, free, land, fruit/vegetable plants , Fruit/nut trees, Other services , Other consumer products to sell on your farm), Other items, Honey from hives on the farm, Fresh eggs, gift shop, concessions / refreshment stand, porta-potties, picnic area, picnic area (bring your own food), petting zoo, farm animals, school tours
125 Prarie Rhonde Road, Ville Platte, LA 70586. Phone: 337-363-2499. Alternate Phone: 337-288-9066. Email: RobinLewis.co@hotmail.com. Open: Roadside Stand all day Everyday with something; All other activities are requested to be scheduled to make sure our slippers aren't on!. Click here for current open hours, days and dates. Market updates: Click here for updates. Directions: CajunLife.co. Click here for a map and directions. We use natural practices, but are not yet certified Organic. Payment: Cash, only. All edible items are seasonal Only! What we grow is from the farm and as the land allows. We do not re-produce,or manufacture any non organic seeding produce or alter our vegetables,fruits or nuts with any chemicals. It is a first come first serve basis, items are not held for order. Our preserved fruits are done in our old fashioned kitchen using grandmas boiling the jar system. One price=one fantastic as it should be off the vines southern spread. We would like to let the public know of the great gifts of farm living so we do allow visitors to tour privately or escorted our grounds at $10.00 a person. Point Blue Farm is on its way we hope to historical significance attributing to Louisiana and the Evangeline Parish area. History and upkeep with many stories are our pride here. We offer small gift shop items and taste testing the ole Cajun way here as it so happens. (ADDED: July 15, 2015)