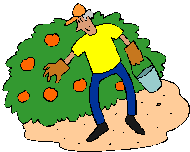 Mary's Blueberries - U-Pick Blueberries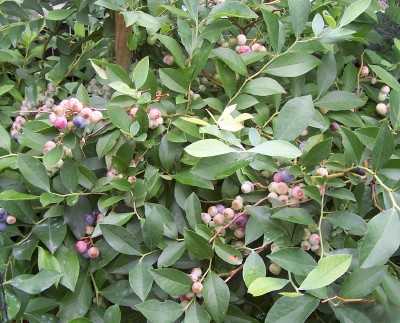 Mary's Blueberries

-

No pesticides are used

, blueberries,
44090 Koreys Lane, Callahan, FL 32011. Phone: 904-710-2176. Open: Days/Hours vary; please call ahead, before you come. Directions: 1/2 mile after entering Nassau County via I-295 North from Jacksonville, Florida. Turn left on Ratliff Road passing over railroad tracks. Turn left on Koreys Lane. Fourth fenced in property on the left. Click here for a map and directions. Open Memorial Day weekend - July (call after July 4 to verify availability). We do not use pesticides on the crops. Payment: Cash, only. During the weekdays, if the gate is closed upon arrival, please call 904-710-2176, and someone will open the gate.
Comments from a visitor on June 07, 2010: "Mary's Berries is no longer open, phone is disconnected. We took a drive out Saturday, June 5, 2010 to Mary's Berries and found that it has closed - no longer exists. And the phone has been disconnected. "
Comments from a visitor on June 27, 2009: "6/27/09 I am amazed to read anything positive about this place. Don't know if there's a Mary but here's what happened. Knowing it's a little late in the season, we called early this morning to ask how the picking was. The response we got was - "there's plenty of berries". We then told her that 2 other places - Williams and Dowless had already said they were out of berries. She continued on that she had plenty, was the largest blueberry farm in the area and there were plenty for picking. Well, she flat out lied - when we got there a half hour later, there was barely a berry to be found. The comment last year about the dog poop still holds true - there is lots of it. Comments about weighing with the pail and having the scale facing her does not make it a place I will ever go to. "
Comments from a visitor on June 07, 2009: "We had an excellent time! Very family friendly! The owner was very nice and welcoming. The blue berries are amazing! We couldn't stop picking them! They have tons of bushes to pick from! The berries are $3.00 a pound. I personally think that is a great price! I am not sure what the issues were last year but we definitely didn't run into them! HIGHLY RECOMMENDED! Bring bug spray! HAVE FUN! "
Comments from a visitor on May 27, 2009: "We went to Mary's Berries a couple years ago, and the berries were FANTASTIC. The prices ended up being higher than we had seen advertised, but they were still very friendly and it was worth the trip from Georgia. We had heard several complaints the following years, and did not go back. Today, however, we were calling around to different farms and decided to call Mary's Berries again, just to verify. The price had dropped to $3/pound, and she had plenty of berries ready to pick, so we decided to go back. It turned out to be a great idea! We were actually the only ones there, so we had the entire farm to ourselves. The lady working there was extremely nice and even let us use some of her bug spray. We took our time and had a blast, and ended up with about 7 pounds of berries. Everything was weighed very fairly and it was just a great experience overall. We will definitely be going back, and I wanted to let everyone know that whatever problems they had last year have been resolved. Very family friendly and highly recommended! (There was also a great little farmer's stand on the way to the farm, though I don't know the name. We loaded up on fruits and veggies and the prices were fantastic!)."
Comments from a visitor on May 24, 2008: "We went to Mary's Berries today, 5/24/08. The trees/bushes are loaded with berries! We had lots of fun with our children today, just picking berries! The blueberries are $4.00 a pound this year (2008).
Comments from a visitor on June 04, 2008: "I went to her farm this weekend. Lots of blueberries and they are $4 /lb. However, she weighs the bucket with the berries and the scale will face her. I paid $16 for 4 lbs and when I got home and weighed the berries on a digital scale, I had less than 3 lbs. I did not eat any on my commute home! I will not go back for this reason. Surely the owner knows what the buckets weigh (she encouraged me to grab the largest bucket). It may just be $4 or $5 but she should be a precise as possible with the upcharge of her berries (she advertised $2/lb). That is just some feedback, for what it's worth."
Comments from a visitor on June 9, 2008: "

I went today 6-9-08 This woman is scamming me out of berries. I picked 3 lbs and she charged me for 4 pounds! At $4.00 a pound I will simply go to Public and buy frozen berries.... She had the scale facing her and was very secret about showing me the scale. I just read the person above and it really happened to me. This woman is rude and I would not ever choose this farm again. Watch out for the Dog poop as you walk....

"
If you can share an experience or photos, or have any comments, please write me!
Blueberry Recipes
Canning, freezing and other blueberry recipes:
Notes for February 2020: The warm winter means strawberries will be EARLY this year! Move the dates ahead by 2 - 3 weeks on our state crop availability calendars for strawberries; see your state's calendar for more dates of upcoming crops. Blueberries have already started in FL and TX.
We also have home canning, preserving, drying and freezing directions. You can access recipes and other resources from the drop down menus at the top of the page or the site search. If you have any questions or suggestions, feel free to write me! It is easy to make your own ice cream, even gelato, or low fat or low sugar ice cream - see this page. Also note, there are many copycat website listing U-pick farms now. They have all copied their information from here and usually do not ever update. Since 2002, I've been updating the information every day but Christmas; so if you see anything wrong, please write me!
Don't miss our closely related other websites: