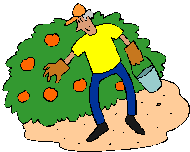 Looking for California Local Department of Health and Agriculture Contact Information in 2020? Scroll down this page and follow the links. And if you bring home some fruit or vegetables and want to can, freeze, make jam, salsa or pickles, see this page for simple, reliable, illustrated canning, freezing or preserving directions. There are plenty of other related resources, click on the resources dropdown above.
If you have questions or feedback, please let me know! There are affiliate links on this page. Read our disclosure policy to learn more.
California Local Department of Health and Agriculture Contact Information
California State Department of Health Contact Information
Most questions regarding food production, handling, sales and serving, including cottage food laws and regulations are handled by the state's local health depertment or department of agriculture, and sometimes by a city or county business registration office.
California Health Department
California Department of Public Health
General Information: (916) 558-1784
For relay services for the hearing impaired or speech impaired, please call:
MCI from TDD 1-800-735-2929 or MCI from voice telephone 1-800-735-2922.
Sprint from TDD 1-888-877-5378 or Sprint from voice telephone 1-888-877-5379
Mailing address:
PO Box 997377, MS 0500
Sacramento, CA 95899-7377.
California local department of health contacts
[Alameda] [Alpine] [Amador] [Berkeley City] [Butte] [Calaveras] [Colusa] [Contra Costa] [Del Norte] [El Dorado] [Fresno] [Glenn] [Humboldt] [Imperial] [Inyo] [Kern] [Kings] [Lake] [Lassen] [Long Beach City] [Los Angeles] [Madera] [Marin] [Mariposa] [Mendocino] [Merced] [Modoc] [Mono] [Monterey] [Napa] [Nevada] [Orange] [Pasadena City] [Placer] [Plumas] [Riverside] [Sacramento] [San Benito] [San Bernardino] [San Diego] [San Francisco] [San Joaquin] [San Luis Obispo] [San Mateo] [Santa Barbara] [Santa Clara] [Santa Cruz] [Shasta] [Sierra] [Siskiyou] [Solano] [Sonoma] [Stanislaus] [Sutter] [Tehama] [Trinity] [Tulare] [Tuolumne] [Ventura] [Yolo] [Yuba]
California Department of Agriculture
916-654-0466 (Sacramento) General Information
916-654-0462 (Sacramento) Public Affairs
If you are using a TTY/TDD (Text Telephone) dial 1-800-735-2929
If you are using a TRS (Telephone Relay Service) dial 1-800-735-2922
FAX: 916-657-4240 (Sacramento)
Address: California Department of Food and Agriculture
1220 N Street
Sacramento, California, U.S.A. 95814
Hours: Office Hours: 8:00am - 5:00pm | Voice Mail Hours: 5:00pm - 8:00am
U.S. Department of Health & Human Services
If you are looking for the national US Department of Health, that's the U.S. Department of Health & Human Services (click here for the website) and here is the mailing address and phone number:
The U.S. Department of Health & Human Services
Hubert H. Humphrey Building
200 Independence Avenue, S.W.
Washington, D.C. 20201
Toll Free Call Center: 1-877-696-6775
Note: Please be aware that mail sent to their Washington D.C. area offices takes an additional 3-4 days to process due to security precautions.