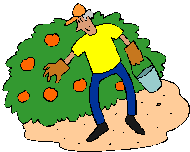 Looking for a local, pick-your-own farm in Southwest Arkansas? Scroll down this page and you will see the U-Pick farms in Southwest Arkansas, sorted by county. Those that offer organic or sustainably grown produce are identified by the words "organic" and/or "sustainable" in Green, next to their name (see "What does Organic mean?"). The U-pick crops they offer follow the name of the farm. To search the page for a specific crop, use Ctrl-F (or on an ipad or Mac, use their "search on this page" function) If they have a website, the name will be in blue and underlined; click on it and it will open their website. Beware of copycat websites (such as the one that starts with "pickit" and the one that ends with ".farms"; they do not update their information, they just steal it from us once in a great while (they are plagiarists operating in Russia and China), so theirs are usually out-of-date -and often copied incorrectly! I put dates to indicate when we last received an update from each farm, and I make updates daily (each farm as their info changes). See the customer and farmer menus at the top menu bar to submit updates and corrections and help me keep each current!
And if you know of any I missed and want to add them or correct the information, please let me know!
What's in season in July 2017, and other timely information:
Notes for July 2017: The warm winter means strawberries will be EARLY this year! Move the dates ahead by 2 - 3 weeks on our state crop availability calendars for strawberries; see your state's calendar for more dates of upcoming crops. Blueberries have already started in FL and TX.
Next year, don't miss an Easter Egg Hunt for your children: See our companion website to find a local Easter Egg hunt!
Children's Consignment Sales occur in both the Spring and Fall See our companion website to find a local community or church kid's consignment sale!
We also have home canning, preserving, drying and freezing directions. You can access recipes and other resources from the drop down menus at the top of the page or the site search. If you have any questions or suggestions, feel free to write me! It is easy to make your own ice cream, even gelato, or low fat or low sugar ice cream - see this page. Also note, there are many copycat website listing U-pick farms now. They have all copied their information form here and usually do not ever update. Since 2002, I've been updating the information every day but Christmas; so if you see anything wrong, please write me!
Southwest Arkansas U-Pick Farms and Orchards, by county
Click on the resources drop-down above, if you need a county map
Clark County
5 K Orchard

- Strawberries, blackberries, peaches (Red Globe, Alberta, and many other varieties), muscadines (purple and white).
South Kratz Road, Donaldson, AR 71941. Phone: 501-384-2486. Open: Monday through Saturday from 8am to 5pm from sometime in May until the first of October. Comments from a visitor on October 11, 2008: "I love this farm. The owners are friendly and the farm is clean and neat. The picking is controlled so that you are not picking behind someone else or in a row that was recently picked. Rides to and from the picking areas are available. They are proud of their products and for good reason. You can also opt to buy fruit that has been picked, if you are busy, and the quality is as good as if you picked yourself. Call for Muscadines because the crop can go through October after they "officially" close for the season. Sani-cans are available. I don't know about the organic question. They take checks and cash. (I have never asked about credit cards) Crafts are available with other products such as: farm fresh eggs, jellies and jams, honey, bread mixes, plants, etc..." (ADDED: October 11, 2008, suggested by a visitor)
Columbia County
Dallas County
Garland County
Berry Hill Farms - blueberries,
344 Walter Adams Tr., Jessieville, AR 71949. Phone: 501-984-5498. Email: berryhillfarms@ymail.com. Open: Mid June - July Call for picking days and times. Directions: Hwy 7 north towards Jessieville, turn left on highway 298 towards story, go 10 miles . Turn left on Rock Springs Road Drive 2 miles then take first left after Jessieville fire station. Walter Adams trl.Drive down Walter Adams Trl. Road curves left,then turn right into first drive.There will be a shop sign. You're here. Click here for a map and directions. Payment: Cash, only. We also grow vegetables and propagate blueberry plants. Will have both for sale from the farm. We will also have U-pick Purple hull peas this year. We use organic pesticides. (UPDATED: January 22, 2013)
Horse Shoe Vineyards - Blueberries, Table Grapes, Blackberries, Wine Grapes, Muscadines.
251 Sparling Road, Hot Springs, AR, 71913. Phone: 501-767-6562. Directions: Located on Hwy 270 West 1 mile West of Pearcy on North side of Hwy.

Muscadine Farm

- muscadine grapes,
170 Rush Fork Circle, Hot Springs, AR 71913. Phone: 501-340-3900. Email: kayshorez@yahoo.com. Open: Labor Day Weekend through early October (or until the grapes are picked); Hours are from dawn to dusk, 7 days a week; Upick the grapes which are sold per gallon; We provide the buckets and plastic bags to take your grapes home. Directions: Click here for a map and directions. Payment: Cash, Check. (ADDED: September 09, 2014)
Royal Berry Farm - blueberries, restrooms
436 Grizzly Road, Royal, AR 71968. Phone: 501-767-2502. Email: royalberryfarm@yahoo.com. Open: Saturday from 6 am to 12 pm. Directions: Take 270 west from Hot Springs. Turn right on Old Bear Road. Turn right on Grizzly Road. Follow the signs. Click here for a map and directions. Payment: Cash, Check. (ADDED: July 19, 2014)
Hot Spring County
Five K Farms, Inc

- Peaches, blackberries
2467 Kratz Road, Malvern, AR 72104. Phone: 501-384-2486. U pick or we pick. Also called 5K Orchard, near Donaldson. Open 8 am to 5 pm, Monday to Saturday. Call for pre-picked orders and to verify availability before you come. Open rain or shine.
A visitor writes on April 19, 2017: "I think this farm is out of the strawberry business, as of Spring, 2017.
I think they had a couple of failed crops, within the last few year. "

Massey Blueberry Farm

-

Uses natural growing practices

, blueberries, U-pick and already picked
1752 Lonesome Road, Bismarck, AR 71929. Phone: 501-865-6344. Email: masseycharlesr@catc.net. Open: seven days a week 6 am to 8 pm. Directions: Located 7.2 miles west of Bismarck on highway 84, sign will be up if we are open to the public. Turn left on Lonesome Road if coming in from Bismarck, it is the first house on the left. We are across from Philippi Church. Click here for a map and directions. Berries are usually ready from the middle of June through the month of July depending on weather factors. We use natural practices, but are not seeking organic certification. Payment: Cash, Check. We provide gallon buckets, the berries are in neat, mowed rows, no chiggers! Best time to pick is 6 in the morning or 6 at night. Due to a late Spring the blueberries won't be ready until probably the 2nd week of July. 2017 prices are $18/gallon picked for you, or $14/gallon if you pick your own. Best time to pick is 6:00 AM or 6:00 PM. We also have this year's crop of blackberries, frozen in gallon bags for $22.00 each. (UPDATED: June 13, 2017) (UPDATED: April 29, 2014) (UPDATED: April 30, 2013) (ADDED: July 08, 2012)
Howard County
Daddy Bob's Orchards - blackberries, blueberries, snacks and refreshment stand, restrooms, picnic area, weddings and wedding parties, school tours, events at your location (call for info)
551 Trenton Blvd, Nashville, AR 71852. Phone: 870-845-4145. Alternate Phone: 870-557-0215. Fax: 870-845-4145. Email: rtlcunited@yahoo.com. Open: Monday to Friday, from 8 am to 7 pm; Saturday and Sunday, from 7 am to 5 pm. Click here for current open hours, days and dates. Picking updates: Click here for picking updates. Directions: Nashville, AR 1. Head south on N Main Street toward E Shepherd Street 0.8 mi 2. Turn right at AR-27 BUS S/W Dodson Street Continue to follow AR-27 BUS S 1.5 mi 3. Continue onto AR-27 S 0.8 mi 4. Turn right at Trenton Blvd Destination will be on the left 295 ft. Click here for a map and directions. Blueberries: Mid-May thru First Week of July Blackberries: Mid June thru Mid July Peaches: Mid June thru Mid July October: Pumpkin Patch. Payment: Cash, Check. (ADDED: March 26, 2010)
Jamison Farm - Peaches.
195 Orchard Road, Nashville, AR, 71852. Phone: 870-845-4827. Open: Call for appointments.
Lafayette County
Little River County
Miller County
Montgomery County
Navada County
Ouachita County
Polk County
Holly Springs Homestead, LLC - blackberries, pumpkins, strawberries, Honey from hives on the farm, gift shop, concessions / refreshment stand, porta-potties, picnic area, farm animals, birthday parties, school tours, group reservations
217 Polk 184, Mena, AR 71953. Phone: 479-437-4069. Alternate Phone: 479-243-6525. Email: HSH_LLC@ATT.NET. Open: Directions: On Highway 71 North leaving Mena, you will take the first Right past Duke's Junction onto Polk Road 74 , {also known as Holly Springs Road}. You will go exactly 5 miles. 1/2 mile before you get to our farm, the road straight turns into Polk 184 - stay on Polk 184 1/2 mile. You will see the Holly Springs Homestead sign on the left. Click here for a map and directions. Payment: Cash, Debit cards, Visa/MasterCard, Discover, AmEx, SFMNP Vouchers. Click here for our Facebook page. (ADDED: February 03, 2017)

Wildacre Ranch

-

Uses natural growing practices

, blueberries, U-pick and already picked
165 Polk 191, Mena, AR 71953. Phone: 479-216-9202. Open: Sunday to Friday, from 8 am to 8 pm; July and August. Directions: Drive 5 miles from Mena on Highway 88 East to the Ink Community. Turn left on County Road 87 and drive for 2 miles. Turn left on County Road 194, then right on County Road 191. We are the second driveway on the left. Follow signs. Click here for a map and directions. We use natural practices, but are not yet certified Organic. Payment: Cash, Check. (UPDATED: May 03, 2011) (ADDED: September 05, 2008)
Sevier County
Union County
---
---
Local Honey Sources:
Polk County
Holly Springs Homestead, LLC - Honey (retail), Clover honey, Raw honeys, Beeswax candles, Other honey products, Tours, Honey from hives on the farm, gift shop, concessions / refreshment stand, porta-potties, picnic area, farm animals, birthday parties, school tours, group reservations
217 Polk 184, Mena, AR 71953. Phone: 479-437-4069. Alternate Phone: 479-243-6525. Email: HSH_LLC@ATT.NET. Open: Check out our Facebook Page for Harvest Dates and Market Hours. Directions: On Highway 71 North leaving Mena, you will take the first Right past Duke's Junction onto Polk Road 74 , {also known as Holly Springs Road}. You will go exactly 5 miles. 1/2 mile before you get to our farm, the road straight turns into Polk 184 - stay on Polk 184 1/2 mile. You will see the Holly Springs Homestead sign on the left. Click here for a map and directions. Annual Farm Tour each June! Check out our Facebook page for details!. Payment: Cash, Debit cards, Visa/MasterCard, Discover, AmEx, SFMNP Vouchers. Click here for our Facebook page. Description: Holly Springs Homestead, LLC is a family farming operations recognized as a Century Farm. The Alston family have been farming since 1897 and today the farm is operated by 5th generation Luke Alston and his wife Deedee and their two sons. Holly Springs Homestead produces and carries a variety of Arkansas Grown and Made products on their On-Farm market. (ADDED: February 03, 2017)
---
Meats, Milk and Eggs:
---
Farm Venues for Weddings, Events, Activities, Parties and Meetings:
Polk County
Holly Springs Homestead, LLC - Birthday parties, Classes, lectures or Speakers, School and educational groups, Daycare and preschool groups, Other Private Parties, Lighting, Cattle ranch, Vegetables, or bush fruit, Corn maze, Pumpkin patch, Beautiful rural setting, Mountain views, Hiking trails, Fishing nearby, hunting nearby, boating nearby, horse riding, Free Onsite Lot parking lot, children welcome, No smoking allowed, Honey from hives on the farm, gift shop, concessions / refreshment stand, porta-potties, picnic area, farm animals, birthday parties, school tours, group reservations
217 Polk 184, Mena, AR 71953. Phone: 479-437-4069. Alternate Phone: 479-243-6525. Email: HSH_LLC@ATT.NET. Open: Check out our Facebook Page for Harvest Dates and Market Hours. Directions: On Highway 71 North leaving Mena, you will take the first Right past Duke's Junction onto Polk Road 74 , {also known as Holly Springs Road}. You will go exactly 5 miles. 1/2 mile before you get to our farm, the road straight turns into Polk 184 - stay on Polk 184 1/2 mile. You will see the Holly Springs Homestead sign on the left. Click here for a map and directions. Annual Farm Tour each June! Check out our Facebook page for details!. Payment: Cash, Debit cards, Visa/MasterCard, Discover, AmEx, SFMNP Vouchers. Click here for our Facebook page. Description: Holly Springs Homestead, LLC is a family farming operations recognized as a Century Farm. The Alston family have been farming since 1897 and today the farm is operated by 5th generation Luke Alston and his wife Deedee and their two sons. Holly Springs Homestead produces and carries a variety of Arkansas Grown and Made products on their On-Farm market. (ADDED: February 03, 2017)
---
Horse Rides and More:
---