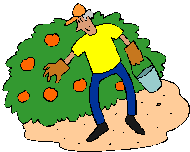 Looking for a local, pick-your-own farm in Northeast Arkansas? Scroll down this page and you will see the U-Pick farms in Northeast Arkansas, sorted by county. Those that offer organic or sustainably grown produce are identified by the words "organic" and/or "sustainable" in Green, next to their name (see "What does Organic mean?"). The U-pick crops they offer follow the name of the farm. To search the page for a specific crop, use Ctrl-F (or on an ipad or Mac, use their "search on this page" function) If they have a website, the name will be in blue and underlined; click on it and it will open their website. Beware of copycat websites (such as the one that starts with "pickit" and the one that ends with ".farms"; they do not update their information, they just steal it from us once in a great while (they are plagiarists operating in Russia and China), so theirs are usually out-of-date -and often copied incorrectly! I put dates to indicate when we last received an update from each farm, and I make updates daily (each farm as their info changes). See the customer and farmer menus at the top menu bar to submit updates and corrections and help me keep each current!
And if you know of any I missed and want to add them or correct the information, please let me know!
What's in season in July 2017, and other timely information:
Notes for July 2017: The warm winter means strawberries will be EARLY this year! Move the dates ahead by 2 - 3 weeks on our state crop availability calendars for strawberries; see your state's calendar for more dates of upcoming crops. Blueberries have already started in FL and TX.
Next year, don't miss an Easter Egg Hunt for your children: See our companion website to find a local Easter Egg hunt!
Children's Consignment Sales occur in both the Spring and Fall See our companion website to find a local community or church kid's consignment sale!
We also have home canning, preserving, drying and freezing directions. You can access recipes and other resources from the drop down menus at the top of the page or the site search. If you have any questions or suggestions, feel free to write me! It is easy to make your own ice cream, even gelato, or low fat or low sugar ice cream - see this page. Also note, there are many copycat website listing U-pick farms now. They have all copied their information form here and usually do not ever update. Since 2002, I've been updating the information every day but Christmas; so if you see anything wrong, please write me!
Northeast Arkansas U-Pick Farms and Orchards, by county
Click on the resources drop-down above, if you need a county map
Baxter County
Mountain Home Berry Farm - asparagus, beans, blackberries, blueberries, onions, pumpkins, raspberries, summer squash, other vegetables, Other fruit or veg, Honey from hives on the farm, and prepicked produce, gift shop, snacks and refreshment stand, restrooms, picnic area, petting zoo, farm animals, birthday parties, school tours
693 Cr 57, Mountain Home, AR 72653. Phone: 870-425-7028. Email: mjcatlin@mtnhome.com. Directions: From the west side of Mountain Home head West on highway 62 for approximately 3 Mi, at highway 126 turn left (south) and go 5 miles to 4-way stop in Buford. At stop sign turn left (east) onto CR 57. Stay on CR 57 for approximately 1/3 Mi, farm is on the right, do not turn onto gravel road. Entrance is driveway next to the house. Click here for a map and directions. Open: Spring and summer u - pick hours, 7 am to 12 noon, Monday thru Saturday weather permitting; Fall Festival, Saturdays and Sundays from 10 am to 6 pm, or during the week by reservation. Click here for picking updates. Payment: Cash, Check. Other u-pick crops include: lettuce, spinach, and radishes. Formerly called Smitty's U-Pick. (UPDATED: May 3, 2015, JBS) (UPDATED: June 29, 2010)
Clay County
Country Garden - Sweet Corn, Cucumbers, Peppers, Tomatoes, Squash, Okra.
2918 Hwy 67, Corning, AR, 72422. Phone: 870-857-3189. Email: jfmiller@neark.com. Open: Monday to Friday 8 am to 5 pm, Saturday 8 am to noon. Call for availability. Directions: 2 miles West of Corning near airport.
Cleburne County
Craighead County
Crittenden County
Cross County
Cross County Farmer's Market (Not a PYO) - Various Fruits and Vegetables.
Cross County Court House, Wynne, AR, 72396. Phone: 870-238-5528. Open: May-September, 7:00 am to 10:00 a.m. Directions: Highway 40 to Highway 1 North to Wynne, Courthouse on the right.

Kathleen Johnson Farms

- blackberries, corn (sweet), cucumbers, eggplant, peas, peppers, summer squash, tomatoes,
581 County Road 333, Cherry Valley, AR 72324. Phone: 870-588-4832. Email: treefarmer581@yahoo.com. Open: 7am to 7pm, 7 days a week. Directions: From Cherry Valley, take highway 42 east fro approximately, 5 miles to County Road 333, turn right on CR 333 go approximately 1/2 mile - look for the red mail box on the right side of the road, then turn into the drive and come to the house on the left. 581. Click here for a map and directions. during season. Payment: Cash, only. (UPDATED: March 06, 2011)
Fulton County
Greene County
Scatter Creek Berries and Produce - blackberries, porta-potties (for customer use)
44 Greene 145 Road, Paragould, AR 72450. Phone: 870-586-0423. Alternate Phone: 870-573-4819. Email: scattercrkberries@yahoo.com. Open: Saturdays and Sundays usually around the second week of June; Hours are Saturdays 8 am to 5 pm and Sundays 1 pm to 5 pm; Season will close around August 15. Click here for current open hours, days and dates. Directions: From Paragould take Highway 49 North to Highway 135 North. Turn left. Go through Oak Grove Heights and turn left onto Highway 34 West. Go about 5.5 miles. Our farm is on the right. Look for our sign on Highway 34 West. Turn right onto County Road 145. Driveway is the first on the right. Click here for a map and directions. Payment: Cash, only. Blackberries, cabbage, squash, cucumbers, peas, beans, tomatoes. (UPDATED: May 30, 2015)
Independence County
RidgeRunner Blackberry Farm - blackberries, U-pick and already picked, porta-potties, picnic area (bring your own food)
400 Creek Road, Floral, AR 72534. Phone: 870-251-1419. Email: charliew@suddenlink.net. Open: operating hours posted on RidgeRunner Blackberry Farm facebook page. Directions: from Southside, AR @ intersection of highway 167 & highway 230 go west on highway 230 for 2 miles then bear left on Camp Tahkodah Road and go 5.4 miles to Creek Road on left, follow Creek Road 1 mile to farm. Click here for a map and directions. Payment: Cash, Check. (ADDED: April 05, 2016)
Williams Berry Farm - Grapes, Blueberries.
350 Harmontown Road, Batesville, AR, 72501. Phone: 870-793-2074. Open: 7 am to 7 p.m. Call before you come. Directions: Hwy 106S through Bethesda. Go south on Harmontown Road three quarters of a mile from Methodist Church.
Izard County
Piney Fork Berry Farm

- blueberries, U-Pick and Pre-Picked
Zion, AR 72556. Phone: 870-368-5001. Email us at: kjv1611@centurytel.net. Open: 6:30 am to noon Saturday and Wednesday, June 13th through July 4th. 2009. Payment: Cash, Check. Directions: 2 miles north of Zion, Arkansas on highway 289. Watch for sign. (UPDATED: June 08, 2009).
Jackson County
Baumgarner Farms

- summer squash, tomatoes, other vegetables, restrooms
P.O. Box 185, Tupelo, AR 72169. Phone: 501-626-3737. Email us at: debbum2001@hotmail.com. Directions: Hwy 17 to Tupelo turn right on Hwy 33 go past Burton Farms about 1.5 miles turn right follow road to first field road on the right. Click here for a map to our farm. Crops are usually available in June. Open: Sunday-Saturday 7:00 am to 6:00 P.M. Payment: Cash, only.
Berries by Bill - Strawberries, Melons.
Exit 83 off 67, Newport, AR, 72112 or S. Caraway, Jonesboro 72402. Phone: 870-503-0139. Open 7 am to until sold-out.
Burtons, Inc. - Sweet Corn and Cabbage.
P.O. Box 9, Tupelo, AR, 72169. Phone: 870-744-2262. Open: Call for availability. Directions: From Newport take Hwy 17 South to Hwy 33 West, 1 mile to the North.
Lawrence County
Heard's Country Market (not a PYO) -
2435 Hwy 63, Walnut Ridge, AR, 72476. Phone: 870-886-6272. Open: Monday to Saturday 7 am to 6 pm. Directions: 1 mile West of Hwy 63 bypass, between Hoxie and Portia. Email: rheard@bscn.com
Mississippi County
Poinsett County
Randolph County
Sharp County
St. Francis County
Sweet Gum Ridge Farms

- beans, beets, broad beans, broccoli, corn (sweet), cucumbers, eggplant, melons, onions, peas, peppers, pumpkins, summer squash, tomatoes, and prepicked produce, restrooms, picnic area, birthday parties, weddings and wedding parties, school tours
944 SFC 352, Forrest City, AR 72335. Phone: 870-732-3729. Fax: 870-732-0447. Email: mgardenc@comcast.net. Directions: I40 and Hiway # 1 At Forrest City Ar. Drive north approx 6 mile passing Caldwell before Colt. Turn east At SFC 352 go one mile, watch for signs. Call 870-630-2154 for directions any time day or night. Other day time phone 870-732-3729 And for a map to our farm, click here. Crops are usually available in April, May, June, July, August, September, October, November, December. Open: Mon to Saturday from 8AM to 6PM, Sun 10AM to 6PM Weather permitting, just about year round. Tomatoes (Apr,May & Jun). Sweet Corn (May & June). Watermelons July & August. Pumpkins (Sept & Oct). Turnip & Mustard Greens (march, Apr, Sept, Oct, Nov) Payment: Cash, Check, Visa/MasterCard.
Stone County
The Berry Farm

-

Minimizes chemical and pesticide use

, blueberries, U-pick and already picked, farm market
13731 Highway 263, Fox, AR 72051. Phone: (870) 363-4306. Alternate Phone: (870)213-5875. Email: adamberry@mvtel.net. Open: Monday thru Saturday from 7 am to 6 pm. Directions: 3 miles south of Fox on Highway 263. Click here for a map and directions. Blueberries: June 8 to July 4. We minimize use of pesticides and other chemicals. Payment: Cash, only. (ADDED: June 07, 2009) (UPDATED: June 08, 2009)

Naomi's fresh vegetables

-

Uses natural growing practices

, Okra (U-pick and we-pick)
12156 highway 5 South, Mountain View, AR 72560. Phone: 870-269-6783. Alternate Phone: 870-214-1424. Email: sorcha22001@yahoo.com. Open: just call me and I will work out a time or place with you. Directions: turn off of highway 14 onto highway 5 south go a little over 4 miles and when you cross over the second bridge turn left there will be a sign at the beginning of our driveway. Click here for a map and directions. We use natural practices, but are not seeking organic certification. Payment: Cash, only. we only have okra right now the severe hot weather has killed all of our other crops so I'm sorry guys but if you need okra just give me a call we still have plenty of it and I will work out a time for you to come or if you like I can send it to you just give us a call. (UPDATED: August 06, 2010) (ADDED: June 06, 2010)
Woodruff County
Peebles Farms - Cantaloupes, Cornstalks, Peas, Pumpkins, Sweet Corn, Watermelons, Wheatstraw.
8101 Highway 33, Augusta, AR, 72006. Phone: 870-347-2649 or 870-919-6162. (UPDATED: August 18, 2011)

Youngs market

-

Minimizes chemical and pesticide use

, currants (red and black), summer squash, winter squash, walnuts,
364 Mulberry Street, Cotton Plant, AR 72036. Phone: 870-589-0799. Alternate Phone: 870-589-0535. Email: Orvilley@yahoo.com. Open: Monday thru Sundays (in other words, daily) from 8am to 8pm central time, from July until January someone is always on site. Directions: I-40 east bound from little rock, Arkansas exit 216, which is cotton plant, and Brinkley exit 49 north to 38 west 4 mile on 38; you will cross turkey creek into cotton plant turn, right on second road to right after creek go two blocks left on mulberry house and garden on your right 364 mulberry. Click here for a map and directions. We minimize use of pesticides and other chemicals. Payment: Cash, only. (ADDED: July 21, 2012)
---
---
Local Honey Sources:
---
Meats, Milk and Eggs:
Craighead County
Ballard Farms - No hormones used, No antibiotics used, Unpasteurized Goat Milk, Eggs (free range), Brown eggs, Specialty eggs (see below), Farm market with fruits and vegetables, Within an easy drive to an Interstate road, Farm/ranch tours for visitors, No pets please,
282 Cr 706, Brookland, AR 72417. Phone: 325 338-5697. Email: ballardpaint@aol.com. Open: Monday to Friday, 7 am to 5:Saturday and Sunday, 9 am to 5 all year round. Directions: Click here for a map and directions. Payment: Cash, only. (ADDED: March 28, 2013)
Crittendon County
Chesapeake Farm Organic Produce And Bakery - Chicken (free range), Turkey, Duck, Exotic meats, Certified USDA organic, No hormones used, No antibiotics used, 100% grass and/or grain fed, Eggs (organic, free range, vegetarian fed), Brown eggs, Specialty eggs (see below), Farm market with fruits and vegetables, Within an easy drive to an Interstate road, No pets please, Turkeys (organic, not-hormone-fed), Fresh eggs
172 2nd St, Earle, AR 72331. Phone: 9015962589. Email: marlenadgee@gmail.com. Open: Monday to Saturday, from 8 am to 5 pm. Directions: Click here for a map and directions. Payment: Cash, Check. Custom bakery products available, see menu on facebook page. Custom canning available in 2015. Will have a wide selection of vegetables, pastured chickens/turkeys/ducks, meat rabbits, and free range eggs. Produce stand located on the highway, open on the weekends starting in Spring 2015. Farm open for sales during the week, just call for more information. (ADDED: November 28, 2014)
---
Farm Venues for Weddings, Events, Activities, Parties and Meetings:
---
Horse Rides and More:
Sharp County
Griffin Park - Horses rented (guided trails), Tent camping, horses allowed, Trailer / Caravan hookup, sewer, etc, Hotel / Motel nearby, Wedding facilities, Beautiful rural setting, Mountain views, Fishing onsite, Within an easy drive to an Interstate road, Pets welcome, Smoking permitted, restrooms, picnic area, picnic area (bring your own food), ziplines, birthday parties, weddings and wedding parties, group reservations
45 Griffin Road, Hardy, AR 72542. Phone: 870-856-4743. Alternate Phone: 870-257-2131. Email: info@gogriffinpark.com. Open: Horses open daily during summer; Weekend only Spring and Fall. Directions: Click here for a map and directions. Haunted Halloween - Thursday through Saturday the last three weekends of October. Payment: Cash, Check, Visa/MasterCard. Riverside camping park with zipline, paintball, horse rides, etc. (ADDED: September 14, 2015)