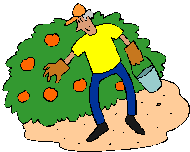 Looking for a local, pick-your-own farm in Mobile Area? Scroll down this page and you will see the U-Pick farms in Mobile Area, sorted by county. Those that offer organic or sustainably grown produce are identified by the words "organic" and/or "sustainable" in Green, next to their name (see "What does Organic mean?"). The U-pick crops they offer follow the name of the farm. To search the page for a specific crop, use Ctrl-F (or on an ipad or Mac, use their "search on this page" function) If they have a website, the name will be in blue and underlined; click on it and it will open their website. Beware of copycat websites; they do not update their information, they just steal it from us one time, so theirs is usually out-of-date -and often copied incorrectly! I put dates to indicate when we last received an update from each farm, and I make updates daily (each farm as their info changes). See the customer and farmer menus at the top menu bar to submit updates and corrections and help me keep each current!
And if you know of any I missed and want to add them or correct the information, please let me know!
What's in season in June 2016, and other timely information:
Notes for June 2016: Strawberries have a very brief season; and they start in early April in the South, May in most of the US, and early June in the North - don't miss them! And blueberries and blackberries are ready NOW in most areas; tomatoes and corn will be starting soon: See your state's crop availability calendar for more specific dates of upcoming crops. And see our guide to local fruit and vegetable festivals, such as strawberry festivals and blueberry festivals. Cold weather crops, like spinach, some lettuces, peas, kale, Brussels sprouts, broccoli, cauliflower, leeks and early onions being harvested in all but the coldest regions. Many farms and markets still have fresh winter squash, stored from last Autumn.
You may noticed the new appearance to the website! Simpler, cleaner and mobile-friendly! I'm rolling it out, page by page over the next 2 months. Everything is still here; you can access it from the drop down menus at the top of the page or the site search. If you have any questions or suggestions, feel free to write me!
Mobile Area U-Pick Farms and Orchards, by county
Click on the resources drop-down above, if you need a county map
Baldwin County
Choctaw County
Clarke County
Conecuh County
Escambia County
Marengo County
Autry Vineyards - Muscadines
17570 AL Hwy 10, Vineland, AL 36784. Phone: (334) 385-2503. Intersection Hwy 25 & 10. Approx. 16 mile South of Thomaston; 6 mile West of Pine Hill; 8 mile east of Dixon's Mills (US Hwy 43); 5 mile North of Sunny South (AL Hwy 5) Leaving intersect (25&10) Toward Pine Hill on AL Hwy 10 Look for 1st Mailbox on left. Open: September 1-October 15, 7 days a week, 8 am to sundown. Totally organic No pesticides, herbicides or commercial fertilizing. Buckets supplied. Weighed & sold by lb.
Mobile County
Monroe County
Hickory Hollow Vineyard - Muscadines 11 varieties
471 Vineyard Lane, Frisco City, AL 36445. Phone: 251-862-2701. Open: mid August to September 30, 7 days a week 8 am to 7 pm. Directions: 8 mile south of Frisco City, traveling south of Hwy 21; signs direct you into Goodway, AL & signs bring you to vineyard. Located 3 mile off Hwy 21. (UPDATED: August 10, 2008)
Sumter County
Milfred Lee Unruh - Peas, green beans, tomatoes, watermelons, okra, cantaloupes
5875 Panola Pkwy 34, Aliceville, AL 35442. Phone: (205) 455-2839. Directions: Hwy 34. Turn left from Hwy 85 (from Livingston). Third house on right Open: June 1-Sept, Monday to Saturday, 7 am to 7 pm
Washington County
Wilcox County
---
---
Local Honey Sources:
Baldwin County
Hillcrest Farm - Wildflower honey, Honey from hives on the farm, Fresh eggs, concessions / refreshment stand, restrooms, picnic area, farm animals, birthday parties
30497 Hixson Road, Elberta, AL 36530. Phone: 251-962-2500. Email: hillcrestfarmupick@yahoo.com. Open: See our facebook page for current hours. Click here for current open hours, days and dates. Directions: four miles west of Lillian Bridge on Highway 98. Click here for a map and directions. Blueberries: May 15 to July 1 Muscadine grapes: August 1 to September 15 Corn Maze: September 5 to November 1. Payment: Cash, Check. (UPDATED: September 13, 2015) (UPDATED: September 29, 2012) (UPDATED: June 22, 2011)
L.A.Berry Farms -

Uses natural growing practices

, Honey (retail), Blueberry honey, Clover honey, Sourwood honey), Tupelo honey, Comb honey, Raw honeys, Honey from hives on the farm, U-pick and already picked, farm market, concessions / refreshment stand, porta-potties, picnic area
12562 Mary Ann Beach Road, Fairhope, AL 36532. Phone: 251 928-7786. Alternate Phone: 251 421-2073. Fax: 2519281004. Email: tynes@laberryfarms.com. Open: May16th open Thursday - Saturday 8am til noon. Directions: turn south on Mary Ann Beach Road (hwy 27 so.) off highway 98 -go 8/10ths of a mile -farm on left. Click here for a map and directions. Watch us on Facebook for updates on dates /hours. We use natural practices, but are not yet certified Organic. Payment: Cash, only. (ADDED: April 30, 2013)
---
Meats, Milk and Eggs:
Baldwin County
Hillcrest Farm - Eggs (free range), Farm market with fruits and vegetables, Restrooms, children welcome, Honey from hives on the farm, Fresh eggs, concessions / refreshment stand, restrooms, picnic area, farm animals, birthday parties
30497 Hixson Road, Elberta, AL 36530. Phone: 251-962-2500. Email: hillcrestfarmupick@yahoo.com. Open: See our facebook page for current hours. Click here for current open hours, days and dates. Directions: four miles west of Lillian Bridge on Highway 98. Click here for a map and directions. Blueberries: May 15 to July 1 Muscadine grapes: August 1 to September 15 Corn Maze: September 5 to November 1. Payment: Cash, Check. (UPDATED: September 13, 2015) (UPDATED: September 29, 2012) (UPDATED: June 22, 2011)
---
Farm Venues for Events, Activities, Parties and Meetings:
Baldwin County
Hillcrest Farm - Wedding Ceremony, Birthday parties, Daycare and preschool groups, Other Private Parties, Corn maze, chickens, Beautiful rural setting, Free Onsite Lot parking lot, children welcome, No smoking allowed, Honey from hives on the farm, Fresh eggs, concessions / refreshment stand, restrooms, picnic area, farm animals, birthday parties
30497 Hixson Road, Elberta, AL 36530. Phone: 251-962-2500. Email: hillcrestfarmupick@yahoo.com. Open: See our facebook page for current hours. Click here for current open hours, days and dates. Directions: four miles west of Lillian Bridge on Highway 98. Click here for a map and directions. Blueberries: May 15 to July 1 Muscadine grapes: August 1 to September 15 Corn Maze: September 5 to November 1. Payment: Cash, Check. (UPDATED: September 13, 2015)
---
Wholesale Foods
Baldwin County
Perdido Vineyards - Local sales at our farm, Regional delivery (see below for details), National delivery, Global delivery,
22100 County Road 47, Perdido, AL 36562. Phone: 251-937-9463. Fax: 251-937-4996. Email: jimeddins@murdercreek.com. Open: Year round; Monday - Saturday; 10am to 5pm. Directions: Exit 45 Interstate 65, east 1/4 mile to 22100 County Road 47. Click here for a map and directions. Payment: Cash, Check, Visa/MasterCard. We produce 12 wine vinegars from local fruits and vegetables. Brand Name CASA PERDIDO. We produce 17 different table wines. Brand Name PERDIDO VINEYARDS. (ADDED: June 16, 2011)